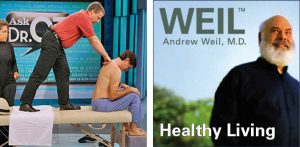 Testimonies



Four reasons to try Rolfing: by Dr. Andrew Weil
Do you suffer from chronic stress, pain or bad posture? You may want to consider Rolfing. Named after Dr. Ida P. Rolf, Rolfing is often referred to as "structural integration." It is not simply massage, it is a system of deep manipulation of the connective tissues that aims to restructure the fascia (the sheath of tissue that surrounds a muscle) and relieve physical misalignment.
Rolfing consists of an introductory series of 10 sessions, each focusing on a different part of the body. The practitioner applies firm pressure via fingers and elbows. The result? You may become more in touch with your body, experience less pain and stress, improve your posture, even release repressed emotions and diminish habitual muscle tension. People who have experienced Rolfing often find an improvement in their professional and daily activities.
http://www.drweil.com/drw/u/ART00472/Rolfing-Dr-Weils-Wellness-Therapies.html
Dr. Oz on the Rolf Method:
"Rolfing literally releases the joints. When you talk to folks about the impact it has on them, a lot of them just stand taller. A lot is just freeing you up to live the way you're supposed to live."
---
I have practiced medicine for most of my life, and have a practice in San Diego. I have enjoyed the benefits of bodywork for many years. I see Michael every week because it makes my life and work so much easier for the demanding scehedule that I have. This is money well spent. His Structural Integration work is very thorough and brings tremendous relief!
Stu B. Cardiff.CA.
I have a knee injury and nothing else has been really helping it heal. In just two sessions with Michael, I am feeling a zillion percent better. His knowledge of the body is just astounding and he's helping me learn more about me too.
Stephanie M. Carlsbad CA.
Micheal was simply brilliant. He fixed all of my problems going on, that is, long-term untractable feet/leg problems and post-oral surgery mouth trauma. Prior to the treatment, I had a lot of different set of fitness type of advice and body work treatments, many of which were either not effective and/or conflicting. His seasoned and calm approach to problem solving as the treatment progressed, I was able to assimilate all of the above into a practical solution I can take away to home to put to use. I am greatful to his in-depth knowledge, experience and integrative approach. He tried a new hip/leg vibration tool on me, great to loosen up the whole leg including IT bands. He designed it, and worked really well for me. He has also designed a number of effective at-home exercises that are very unique, which have been very effective. His integration of static/movement based and passive and active release techniques were very effective.
Ken N. Rancho Santa Fe
This process has been the least amount of effort, the least amount of time, the least amount of money for the greatest amount of benefit of anything I have ever done.
Robert Williams, Chiropractor
The ability of Structural Integration to rejuvenate, heal and empower cannot be overstated. It is a priceless gift to everyone who takes an active role in the creation of his or her health.
Gary Zokov, Author, New York Times Best Seller, Seat of the Soul
I used Hellerwork Structural Integration before heading to the Athens Olympics and it was the best decision that I have made regarding my body. I feel that my body moves more efficiently and I have been able to stay injury free.
Misty May, Olympic Gold Medalist, Volleyball
Rolfing [Structural Integration] has been stretching out muscle fibers that haven't been stretched for 30 years. When I started, my muscle fibers felt like petrified rock. Now they are getting progressively softer, more supple and gaining elasticity."
Leon Fleisher, Concert Pianist
My fiancee had major back pain. She heard about Body Solutions 101. From day one of her treatment, she noticed a significant improvement in her pain level and posture. Mike was fantastic! He was extremely professional and knowledgeable about her particular situation. He's well worth the investment.
Jon Anderson Del Mar
Phoenix Suns guard, Danny Ainge, who has recieved Rolfing [Structural Integration] for years, recommended the therapy to Charles Barkley. Other Suns, Mark West and A.C. Green, also have been Rolfed…with satisfactory results."
Arizona Republic, Newspaper
If you like massages to relieve tense muscles etc., this is so much better. I truly felt relaxed with all tension and knots worked out, plus educated on what I can do at home to help alleviate and work out things on my own. Michael's knowledge of rolfing and other techniques is very deep and he is in tuned with what your body is telling. Highly recommend.
Anita M. San Diego
Such a great experience. I've been to a few other specialists for my back issues. Michael actually cared and really knew what he was doing. Plus just a super nice guy!
Thomas A. Carlsbad CA.
Rolfing, rolfing san diego , rolfing carlsbad, rolfing solana beach,  body solutions 101, four reasons to try rolfing Dr.Weil, Dr. Oz on Rolfing, Hellerwork, Ida P. Rolf

3798 Manchester Ave    (North East Barn Studio)     Encinitas   92024    (760) 715-2122